The holidays are just around the corner, and what better way to celebrate and enjoy this festive time of year than with your family during a getaway to Columbia County, Georgia? It is such a fun and exciting time of year to experience the holiday activities that will make the perfect addition to your celebration. Here are just a few holiday activities to add to your agenda while visiting family or hosting them!
Georgia Shines Bright with Christmas Lights
During the holiday season, Columbia County comes to life with the holiday spirit and with so many Christmas light-displays throughout Georgia, the entire family will be treated to a winter wonderland.
One event that should be added to your list is the Annual Lights of The South, a top nominee for the largest outdoor light displays in the southeast. Stretching more than 100 acres this family-friendly event is a must during a holiday visit. Lights of The South kicks off on November 19th and will run until December 30th from 6 p.m. to – 10:00 p.m. providing plenty of time to catch this wonderful event.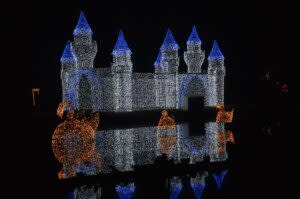 Christmas in Columbia County!
Christmas in Columbia County will take place on Sunday, December 5th from 2 - 7 p.m. at Evans Towne Center Park and will be complete with a Holiday Market, free Santa photos, train rides, live music, and even a firework show. We also recommend catching one of the many parades happening throughout the holidays like the Appling Christmas Festival, Grovetown's Christmas Parade, Christmas in Harlem and the Columbia County Christmas Parade, which boasts holiday-themed floats and great music all for a great cause.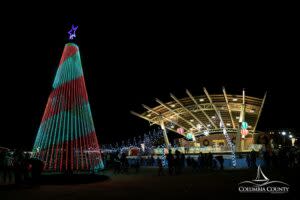 Evans on Ice
When it comes to fun on the ice you cannot go wrong with a visit to Evans on Ice! This magical event provides a sprawling outdoor ice-skating rink and holiday parties from November 21st – January 6th as part of Christmas in Columbia County. A full Holiday Market, photo station, and hayrides will be available along with ice skating lessons for visitors who have never tried this fun activity and for those who might need a refresher course. Visitors can also look forward to live music on Friday nights, movies on Saturdays, train rides, and much more!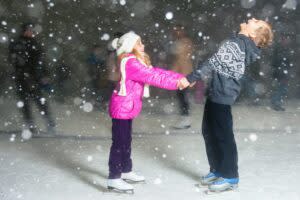 More Winter Festivities That Shouldn't Be Missed
The fun continues with a variety of winter festivals in Georgia that have a little something for everyone. Whether you're looking for some one-of-a-kind holiday shopping or some holiday tunes, there's an abundance of things to do in Columbia County, Augusta and surrounding communities.
Christmas in Columbia County isn't complete without the joy of music that the holidays bring and there are plenty of opportunities to catch some Christmas-inspired songs like the Celtic Angels Christmas and A Magical Christmas Starring the Blackwood Quartet. Be sure to check out our full list of holiday events including The Nutcracker, The Day After a Christmas Carol and many more that the whole family will love.
Get in The Holiday Spirit
The holiday activities in Columbia County are endless and are sure to provide you and your loved ones with the ultimate holiday experience. This season, give yourself and the family the perfect gift and experience Georgia like never before. Need some help with finding accommodations? Let us help, with our cozy list of accommodations that will make your holiday trip even more enjoyable.