Top Photo by: Kimberly Davidson Campbell
Our favorite day of the year is here! Friday, June 7, is National Doughnut Day! The first Doughnut day was started in 1938 to honor the Salvation Army "Lassies" who served doughnuts to soldiers in World War I. We, too,will celebrate this yummy holiday with doughnuts from one of these places!
Belair Donuts & Coffee Corner
Named the Best Donuts in Augusta in 2017 and 2018 by Augusta Magazine, Belair Donuts have been a Columbia County staple for years. These doughnuts definitely live up to that reputation as they are hand made fresh every day. Enjoy traditional favorites like cake and glazed doughnuts or one of their famous Cro-Dos (Deep fried, glazed croissant).
https://www.instagram.com/p/BgqXjZeA-zj/
Or perhaps one of Belair's gourmet specialties like crème brûlée, raspberry cheesecake, or chocolate peanut butter fluff.
https://www.instagram.com/p/BuTdhm2jy1D/
But hurry on by or this is all that will be left…
https://www.instagram.com/p/BqzpETYjNTm/
Finally, "do-nut" forget your accessories!
https://www.instagram.com/p/BvTZZ9_ly3F/
To celebrate National Doughnut Day, Belair Donuts will have free samples and will be giving away a dozen doughnuts to random numbered customers. Visit Belair Donuts at 4045 Jimmie Dyess Parkway. Tip: order online or visit early for the best selection!
Follow them on Facebook and Instagram to watch for pop-up specials throughout the day!
Sheila's Baking Company
FRESH. Delicious. Handcrafted. That is exactly what you can expect from Sheila's Baking Company. Her signature doughnuts are handcrafted from scratch and fried to a golden brown perfection. Sheila believes real baking is an art and it shows in the flavor and presentation of her tasty treats.
https://www.instagram.com/p/BwfOU4ljcQY/
Other signature treats include these amazing cinnamon rolls with brown butter icing…
https://www.instagram.com/p/Bx49JcEF8qW/
Did we mention that Sheila serves her deliciousness out of the cutest little bakery bus?
https://www.instagram.com/p/BtqjWzbBEGh/
Sheila's flavor of the month for June is a Chocolate Mint doughnut featuring a chocolate doughnut with refreshing mint filling. This flavor, in honor of Father's Day, is inspired by her dad's love of Peppermint Patties. Swoon!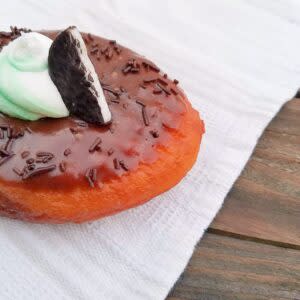 Get your yummy treats Thursday at the Columbia County Farmers Market, at Sugar Booger or Rooted Coffeehouse in Evans this Friday, or visit her Bakery Bus on Saturday from 8 AM – 12 PM at 551 Old Evans Road, Evans, GA. But hurry…these treats sell out fast!