Article Michelle Tordoff | Photography Mary Scheirer
Craving a cozy atmosphere with a touch of community and, of course, excellent coffee? Rooted is the perfect place. This local family-owned business has a story as warm and inviting as its atmosphere, and it will leave you inspired about what can bloom from some of the most major changes in life.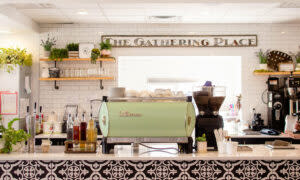 Speaking to co-owner Heather Needles as she shared about their exciting adventure into restaurant ownership was an absolute joy. The Needles family moved from their lifetime residence in Illinois about three years ago. Having never lived away from Illinois and missing the companionship of friends and family, they decided to find ways to connect in their new Georgia home. As they took the steps to settle in, seeking a new house, a new church and a new community, one thing they found lacking was a coffee house on every corner, a place for folks to meet and fellowship over a delicious cup of joe. They soon chose Riverwood as a place to call home and to strike out on their new adventure: the beginning of Rooted.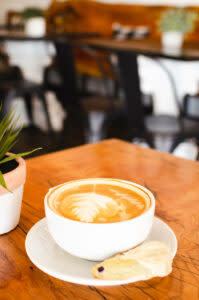 The Needles now believe that Riverwood was the perfect place to establish their family's new roots and to begin a thriving business built around connection. Although they had never owned a business before, Heather (mom) and Allison (daughter) knew what they were seeking. They took a leap and launched their vision: a hub where people could gather over a freshly hand-crafted meal and some amazing coffee, all for the sake of connection.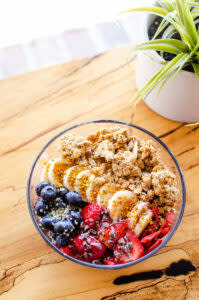 The Needles are committed in their endeavor to provide a welcoming atmosphere for others, full of warmth, soothing colors, homey touches like books and greenery, and delicious, healthy, organic food. From the moment you walk in, you and are embraced by the aroma of coffees, teas and fresh-baked goods. The distinctive menu is filled with espressos, house-made syrups, teas, fruit smoothies, organic bowls, gourmet-style sandwiches, ice cream and more, including their famous toasts (there's a lot more to it than you might imagine).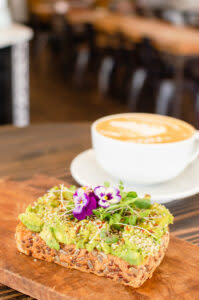 The Needles have created a friendly ambiance that invites you to stay a bit and linger as you sip and study, read or chat with a friend. And their mission goes beyond their coffee house community; having adopted children themselves, they support adoption through some of their uniquely branded merchandise.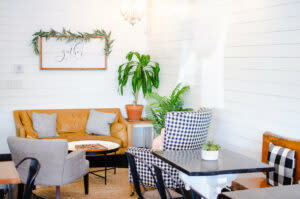 And what about their name? Rooted was chosen as it is part of a beautiful theme in their family's life. After considering their big shift (from uprooting in Illinois to laying down healthy roots in Evans), their commitment to being rooted in Christ and their mission to create roots for themselves and others within the community, it became clear. So, connect with your neighbors, catch up on a book, go meet a friend or make new ones while enjoying something delicious. Just know that you are always welcome at Rooted.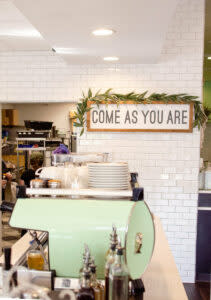 Special thanks to our friends at Evans Lifestyle Magazine for allowing us to share this story. Visit them online or on Facebook for more articles like this one.
Rooted Coffeehouse, 3116 William Few Parkway, Evans, GA 30809, (706) 426-8083