As seen in the August Issue of Evans Lifestyle Magazine
Article Michelle W. Parnell | Photography Randy Pace
"It's a beautiful day!" owner Colden Waller announces with a smile under his signature mustache.
Welcome to Cadwallader's Cafe. From the outside, you might never expect what can be found just through the main door: an eye-catching combination of rustic elegance met with delicious fare and friendly staff. Whether life-long or first-time, guests are received graciously by Colden and his wife and Cadwallader's co-owner, Mary, and it is easy to feel most welcome.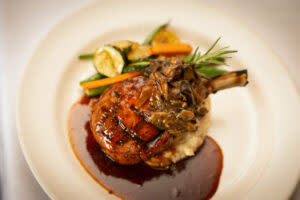 Photography Randy Pace
"We think of people as coming into our house," Colden says, "and when someone comes into your house, you want them to leave thinking, 'I want to come back.'" Patrons show that many do, in fact, leave thinking about how soon they can return!
Established in 1987, the restaurant's moniker is derived from the name connection owner Colden has with Cadwallader Colden, an 18th-century physician and governor of New York. Initially, the couple opened a deli and wine cafe, but the draw to establish a fine dining restaurant soon won out.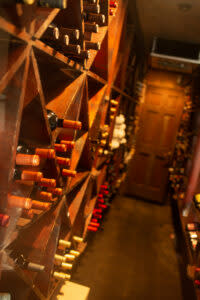 Photography Randy Pace
In the last 32 years, the restaurant has undergone several expansions. "Our seating at the beginning was so small that some of our regular customers wouldn't tell their friends because they were scared they wouldn't have a place to sit," recalls Colden with a chuckle. "We expanded the first time just to meet demand. The second time we expanded to have a private room."
The Wallers have a devoted customer base. "We have some customers that have been coming forever and are in their 70s and 80s," Mary says. "And now their children and grandchildren are coming…it's a generational thing. We've shared so much with so many people—birthdays, anniversaries, weddings. We've seen a lot of people have babies, and we've seen people pass on."
"We're a neighborhood restaurant, and we've got very loyal customers," Colden adds. "And that's what makes it fun! It's fun to see our regulars, and it's fun to meet new people. We've enjoyed watching Augusta and Columbia County grow."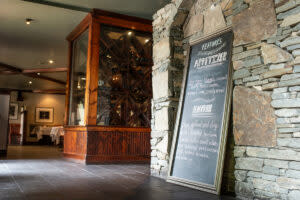 Photography Randy Pace
Cindy Pollard and her husband, Andy, have been dining at Cadwallader's for 30 years. "[We] originally started going to Cadwallader's for the food, but over the years, we've become good friends with Colden and Mary. We've had many family events there."
Longevity also extends to the staff. "I've been fortunate to have some great employees to stick with me for years upon years," Colden says. "And they feel like family."
Cadwallader's has a menu filled with fresh local produce provided by local vendors and items made from scratch. "We believe in fresh quality," Mary says. "We keep it classic and simple. Sometimes less is more."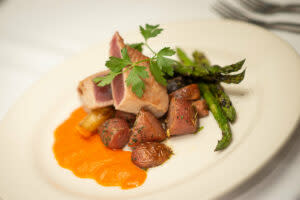 Photography Randy Pace
While perusing the menu, if you ask for recommendations on what to order, the first question to you, Colden says, will likely be, "How adventuresome are you?"
"If they like to try different things, then we'll recommend something unusual for them."
At the end of the night, what matters most to Colden and Mary is that "people have a good time."
"Sometimes from the kitchen," Mary adds, "we hear people in the banquet room laughing and having a great time, and that's what we strive for."
Special thanks to our friends at Evans Lifestyle Magazine for allowing us to share this story. Visit them online or on Facebook for more articles like this one.
Cadwalladers Café, 106 Davis Road, Martinez, GA 30907, (706) 860-7444