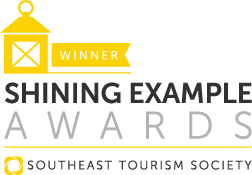 CONCORD, N.C. (September 8, 2022) The Columbia County Convention and Visitors Bureau received the Best Marketing Campaign Under $100K award for their Serene18 Paddle Trail at Southeast Tourism Society's Shining Example Awards held on the evening of September 8th, 2022, at the Embassy Suites by Hilton Charlotte Concord Golf Resort and Spa in Concord, NC during STS Connections.
The Serene18 Paddle Trail launched in June of 2020 to market the many beautiful waterways Columbia County, GA has to offer in one cohesive campaign.  The CVB created a Passport that acts as a guide for paddlers as they take on the great Serene18 challenge: completing five different predetermined water trails in the Columbia County area. Since its launch, Serene18 won the Best Integrated Marketing and Messaging Campaign award from the U.S. Travel Association, the TravelBlazer award from the Georgia Association of Convention and Visitor Bureaus, and took home Gold Addy awards at the local and regional levels.
The Columbia County CVB was one of sixteen award winners of the night. The Shining Example Awards Program, an industry fixture since 1985, recognizes outstanding contributions to travel and tourism within the Southeast United States.
About Columbia County CVB- The Columbia County Convention and Visitors Bureau is a not-for-profit Destination Marketing Organization tasked with promoting Columbia County as a travel destination. For more information on the Columbia County CVB, visit visitcolumbiacountyga.com.
About Southeast Tourism Society (STS)- The Southeast Tourism Society is a not-for-profit membership association dedicated to developing travel and tourism professionals and organizations within the southeast region.
STS' mission is to empower a diverse network of tourism professionals through Education, Advocacy, Recognition, and Networking. Member states include Alabama, Arkansas, Florida, Georgia, Kentucky, Louisiana, Mississippi, Missouri, North Carolina, South Carolina, Tennessee, Virginia, West Virginia, and the District of Columbia.
###
Contact: Ashley Swain, TMP
Director of Marketing
Email: abswain@choosecolumbiacounty.com
Phone: 706.447.7677