Father's Day is just around the corner. Specifically, Sunday, June 21 for those of you who forgot to write it on your calendar! Don't worry …he probably forgot too. This year, may we suggest a few activities that will allow you to spend quality time with your "old man". Check out the list below for some of our favorite, Dad-approved, activities!
And…Happy Father's Day to all of the Dad's. May you feel loved, honored and appreciated!
Drum roll please…..Here are our top picks for making memories with Dear ol' Dad this year.
AR Workshop- D.I.Y. with Dad! He is sure to love spending time with you while crafting a custom gift. From frames to bottle opener boxes, the choices are endless. Click here to register for a family-friendly Father's Day Workshop.
https://www.instagram.com/p/BxnnpaFFklN/
Pedal the Path- Rent bikes from The Bicycle Peddler, located at Savannah Rapids Park. Pedal the towpath (with the Savannah River on one side and the historic Augusta Canal on the other) to Downtown Augusta. They will even provide a helmet!
Bartram Trail Golf Club- Schedule a tee time for you and your "pops" on this beautiful, rolling course, with Mini Verde fine bladed Ultra Dwarf Bermuda grass. This is sure to be a "hole-in-one".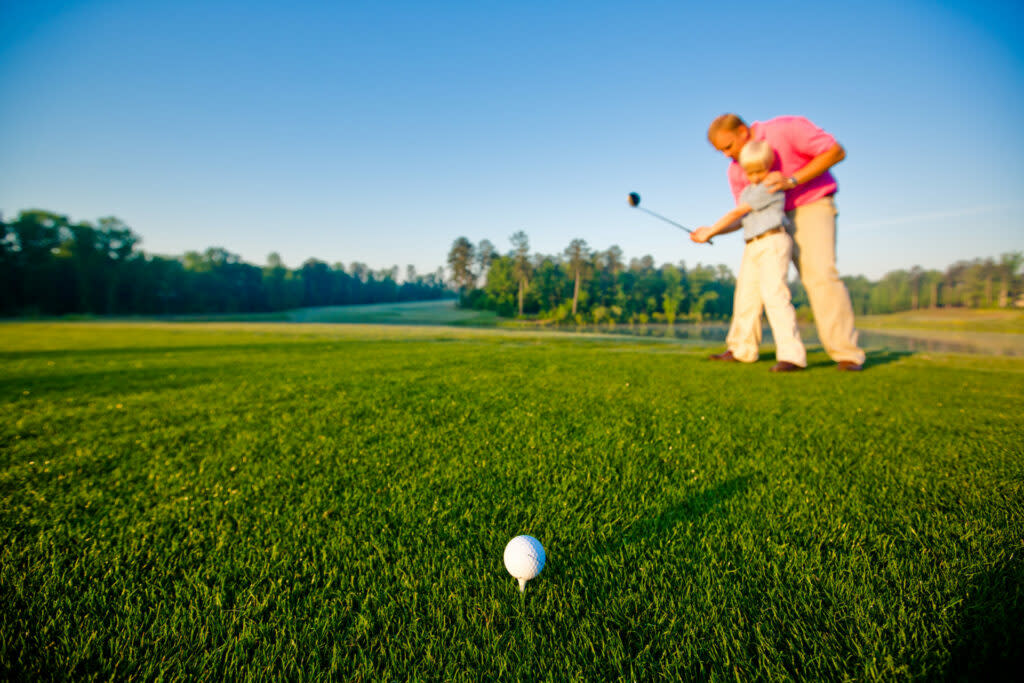 Father and Son at Bartram Trail Golf Club
Serene18 Paddle Trail- For the adventurous Dad in your life we suggest exploring the beautiful waters of Columbia County by conquering the Serene18 Paddle Trail. A unique opportunity to experience 18 square miles of Georgia's most serene water trails and uncommon wildlife by paddling Clarks Hill Lake, the Savannah River and the Augusta Canal. Request for FREE passport today!
https://www.instagram.com/p/BG7IFWpg8J2/
Clarks Hill Lake- Rent a boat from Clarks Hill Marina or a jet ski from Keg Creek Watersports and take to the high seas. Well…not exactly but you can navigate the largest lake in Georgia, Clarks Hill Lake! The beauty and tranquility of this 71,000 acre lake is sure to provide Dad with a day of peace and relaxation.
P.S. Do not argue over the name of the lake. Us Georgian's know it as Clarks Hill Lake but if he wants to call it J. Strom Thurmond Lake, just let him. It is his "day" after all.
https://www.instagram.com/p/BzwNowKlMPw/
Active Climbing- Why not challenge Dad to a bouldering bout at Active Climbing, the areas only indoor climbing gym? May we suggest a competition to the top of "the twins"?  Now, now…go easy on your old man. Be sure to challenge yourselves, but have fun. And… don't leave without testing your skills at the Ninja training Center. Obstacles include: the salmon ladder, jumping spider, cliff hanger, and the warped wall. Get active with Dad this year, a memory he won't soon forget! Probably because he will be sore for days. We're just sayin'!
https://www.instagram.com/p/ByRDJwhlFcZ/
Tip Top Taps- Make Dad  'hoppy' with a trip to Tip Top Taps. Sit a spell and sample a cold brew from one of their 20 rotating taps. Then, let him fill his favorite in a growler to enjoy at home. Tip Top Taps strives to offer a wide selection of craft beers from pale ales to porters, ambers to imperial IPAs. Dad is sure to find something he'll love.
https://www.instagram.com/p/BxDwQzZFutj/